ABOUT THE EXPERIENCE – MEN
What to Expect from Men at the Cross Weekend Retreats
The weekend Christian men's retreats hosted by Men at the Cross are a chance to examine one's relationship with God, your family, and others.
What to expect
to experience God's power and love in the context of community
to acquire a greater awareness of how you show up in life
to look at specific areas of growth in your life
to come away with tools to deepen your relationship with God and others
to anchor your identity in Christ
Why would you participate?
to grow in intimacy with God
to experience freedom from past wounds and hurts that create destructive behaviors
to overcome the power of fear and shame
to identifying blocks to living out of God's grace
to obtain clarity of direction, growth in confidence, and authentic relationships
Whatever your reason for coming, it is welcome.
The Schedule for the weekend:
Each men's weekend retreat begins at 6 p.m. on Friday and ends at 3 p.m. on Sunday. The fee includes the cost of lodging and five meals—three meals on Saturday and two on Sunday. Please plan to eat before your arrival on Friday.
Check the FAQs for out-of-town travel information to ensure that your travel plans work with the timing of the weekend. Late arrivals and early departures are not permitted.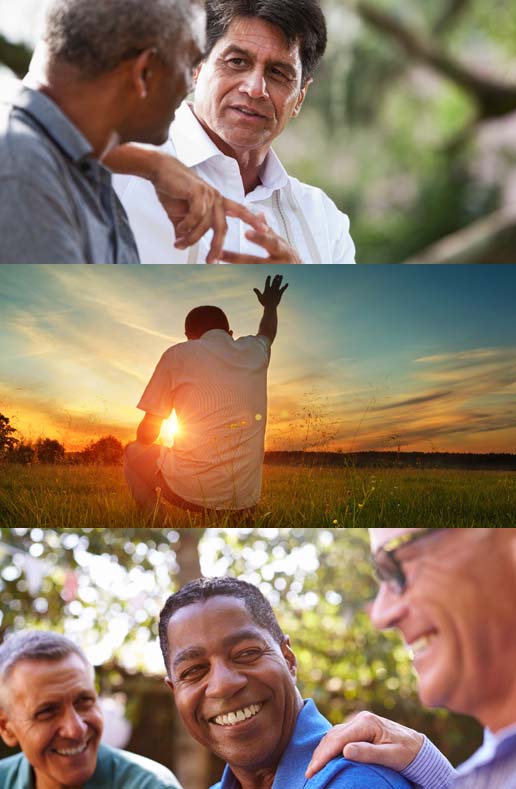 TESTIMONIALS
Men at the Cross brought a collision of God's grace and my "stuff", stuff that at times manifested itself through shame, a critical spirit, blame, judging, anger, and isolation. Actually, I kept all of this hidden for the most part, except for those special people, my family. MATC has brought such incredible freedom and grace to my relationships. Our marriage is functioning at a level previously impossible because we are so much more aware of our personal stories and each other's story. This has allowed me to be much more patient and grace-filled and empathetic with the people to whom God has called me to minister. I cannot imagine pastoring my present church without having the experience provided by Men at the Cross.
— Keith, Murray, KY
READ MORE TESTIMONIALS OF LIFE-CHANGE AT THE CROSS MINISTRY RETREATS
TESTIMONIALS
Men at the Cross brought a collision of God's grace and my "stuff", stuff that at times manifested itself through shame, a critical spirit, blame, judging, anger, and isolation. Actually, I kept all of this hidden for the most part, except for those special people, my family. MATC has brought such incredible freedom and grace to my relationships. Our marriage is functioning at a level previously impossible because we are so much more aware of our personal stories and each other's story. This has allowed me to be much more patient and grace-filled and empathetic with the people to whom God has called me to minister. I cannot imagine pastoring my present church without having the experience provided by Men at the Cross.
— Keith, Murray, KY
READ MORE