STAFF/ALUMNI (in person) events:

A Season to Journey Deeper
Come and join us for a Journey Deeper into what God began in your Men at the Cross or Women at the Cross experience.  Explore and Experience:
A greater understanding of the keys to your transformation in Christ
Discover how to meet God in the everyday challenges of life
Identify and experience growth around what blocks you from deeper connection to God and others
A rich experience of community as you journey deeper together.
Men's Journey into Elderhood

This event is open to all men who are 50 years of age and older.  Open to only MATC alumni at this time.
"The Men's Journey into Elderhood" is designed to call forth the elder presence within you for the sake of your family, community and the world.  Most of us have not been mentored by our elders.  The consequence is that we are not confident and empowered to manifest an "elder presence."  A common question is: "What does it mean to be an elder and how do I become a mature elder in life?"  There is a part of us that yearns for these answers so that we are fully engaged in our purpose in this latter stage of life.  Do you hunger for this?
Without the mature elder presence in the world, younger people in our sphere of influence are not shown the way to maturity.  The world needs mature men who are anchored in their identity and who have clarity about what they have to offer to their world.  Would you like to have a vision for what this means for you?
Our goal  for this journey is:
To ignite a vision within for who we are as older men
To help bring to maturity the older men in our community
To honor and encourage them
To inspire them to impact the world around them with their presence.
ZOOM Offerings
Renewing Your Mind in Christ: Stepping into Maturity in Your Thought Life  and Experiencing More Fully the Love of God — 4 week Zoom offering led by Bob Hudson, TCMG Founder & Creative Director.  Each session will be one hour and fifteen minutes.
We will explore:
Identifying the power of our thoughts and the goal of a mind not surrendered to the Spirit's presence.
How do our thoughts impact us spiritually, emotionally and relationally?
What does a "renewed mind" look like?
What does it mean to "bring your thoughts captive to Christ?"
Moving from fear to love – discovering freedom when God meets you in your thoughts.
Enneagram Experience: Explore the dynamic possibilities of your personality and the energy that drives you — 4 week Experience taught by Rob Gibson, TCMG Executive Director and Enneagram Coach.  Each session will be one hour and fifteen minutes.
Goal:
Explore your personality and how to live from your truest self
Learn about the lens through which you and others see the world
Explore and expand the dynamic possibilities of your personality
Discover how your personality relates to other personality types
Gain insight into the core longings of those closest to you and how this can improve your relationships
Uncover in your personality what hinders you from living more abundantly in Christ's love
Grow in awareness of how your emotions interact with your personality type
What do I need to press into for personal growth transformation
NOTE: Due to COVID-19, we have decreased the size of our staff and attendees for each weekend to provide as safe an experience as possible. In addition, we require all attendees and staff to exercise extreme care, practice social distancing, wear masks, and increase sensitivity to your health and exposure for 10-14 days before the weekend experience. Attendees and staff are only to attend if 100% healthy (no exceptions).
Our weekends do not allow for social distancing. You will be in small groups, eating together, and in shared sleeping quarters. You may wear a mask on the weekend, though masks are not required.  Temperatures will be taken upon arrival.
To date, we have had no incidences of illness following our weekends. We are committed to your safety and ask you to be particularly careful prior to joining us. Come healthy—leave healthy!
There is added risk in the current environment and we believe the experience and opportunity of The Cross Ministry Group weekends are so impactful that it is worth it. At the same time, we honor you where you are, and if now is not the time for you, we invite you to register and join us when you are ready.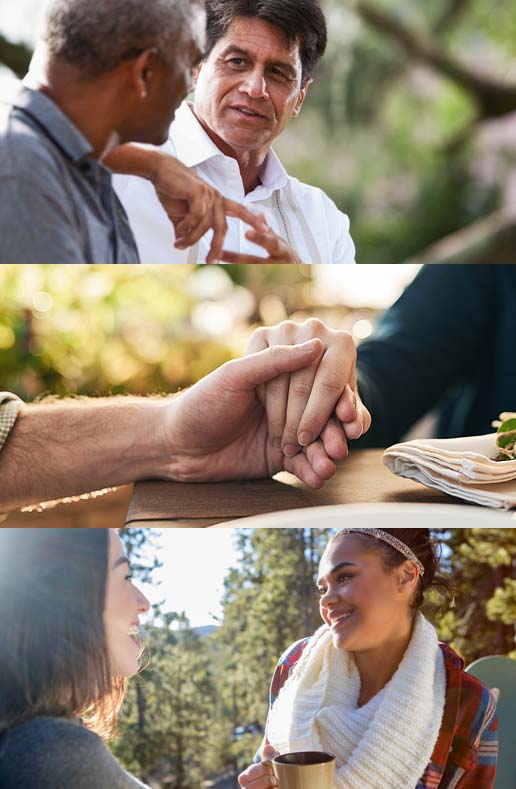 TESTIMONIALS
Go! Just go! Open your heart to the possibility that your relationship can be better, maybe better than ever. Be open and trust the processes. It works!
— Ellie, Northville, MI
READ MORE