Upcoming Men at the Cross Retreats
Men at the Cross hosts 6 spiritual retreats each year. The locations for these transformative retreats include Colorado, Kentucky and the East Coast.
We offer participants practical tools for integrating the experience into their daily lives, including an 8-week follow up program for alumni and online resources. We also invite retreat alumni to continue their involvement in the program by volunteering for subsequent retreats.
The Schedule
Each men's weekend retreat begins at 6 p.m. on Friday and ends at 2 p.m. on Sunday. The fee includes the cost of lodging and five meals—three meals on Saturday and two on Sunday. Please plan to eat before your arrival on Friday.
Check the FAQs for out-of-town travel information to ensure that your travel plans work with the timing of the weekend. Late arrivals and early departures are not permitted.
Upcoming Dates
Men at the Cross Colorado, YMCA Camp Shadybrook, Deckers, CO February 18-20, 2022
Men at the Cross East Coast, The Pinelands Center at Mt. Misery, Browns Mills, NJ March 25-27, 2022
Men at the Cross Colorado, YMCA Camp Santa Maria, Grant CO, April 29-May 1, 2022-registration open soon
Men at the Cross Kentucky, Crossings Camp, Bagdad, KY March 11-13, 2022
NOTE on COVID-19:
Given current conditions regarding Covid-19, variants and illnesses, and for the health and safety of all, we ask that you be particularly mindful of your health and environment prior to coming to the weekend. We encourage vaccination, Covid testing and precautionary actions that fit your conscience. We are sensitive to the safety and health of our staff and every attendee. Come only if you are 100% healthy.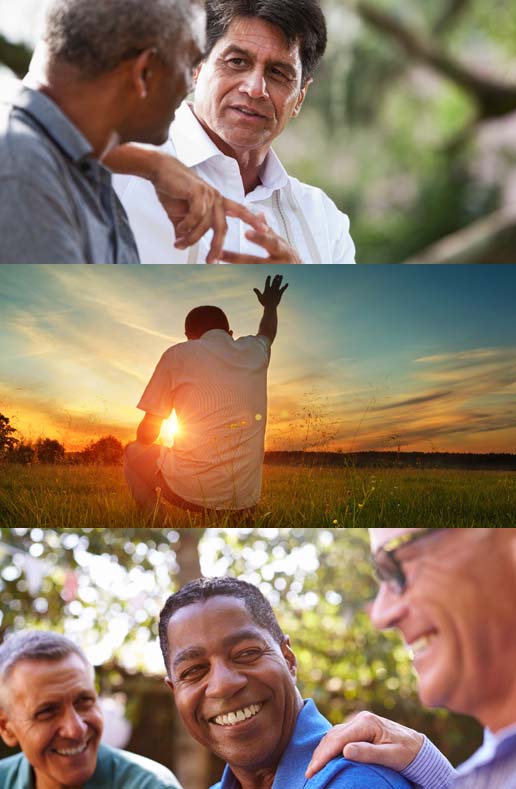 TESTIMONIALS
I would personally like to thank Men at the Cross Ministry for the growth that was experienced on my first MATC weekend. I was finally able to bring closure to areas in my life that prevented me from being the man God intended me to be and to begin accepting who I am as a beloved child of God. Without reservation, I would recommend this ministry as a means of deeper personal growth and love for our Lord Jesus.
— Darrell, Plano, TX
READ MORE TESTIMONIALS OF LIFE-CHANGE AT CROSS MINISTRY RETREATS
TESTIMONIALS
I would personally like to thank Men at the Cross Ministry for the growth that was experienced on my first MATC weekend. I was finally able to bring closure to areas in my life that prevented me from being the man God intended me to be and to begin accepting who I am as a beloved child of God. Without reservation, I would recommend this ministry as a means of deeper personal growth and love for our Lord Jesus.
— Darrell, Plano, TX
READ MORE