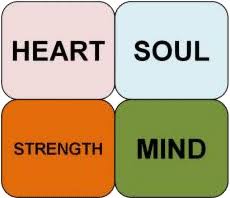 4 Quadrant Basics and Process September
If the event become full and it will not let you register, please email jessica@crossmg.org to be placed on a waiting list. Thank you
Description
Description
4 Quadrant Basics and Process

A 4-week experience – Live on Zoom with Sharon Potzer, former WATC Director/Board Member

Goal:
Explore the basics of our Heart, Mind, Strength and Soul Quadrants
Discover your strengths and challenges in each area.
Learn how the quadrants work in concert with each other around issues that come up in your life.
Learn a process using the 4 Quadrants to work through growth opportunities in every area of your life.
Gain insight into where some of the ongoing struggles we all encounter may come from.
Gain a fresh appreciation for how "fearfully and wonderfully" we are made in these 4 Quadrant reflections of the Image of God, while allowing Him to grow us up and transform us in each area.
Details:
A 4-week experience – Live on Zoom with Sharon Potzer, Certified 4 Gateways Coach and WATC Director
4 – One hour and fifteen minute sessions. A video recording is available for any missed sessions.
Includes handouts and worksheets for each week.
Cost $130
Date & Time
Mondays 6:15pm MDT/8:15pm EDT
September 14, 21, 28, October 5