UPCOMING WOMEN'S RETREATS
Upcoming Women at the Cross Retreats
Women at the Cross hosts weekend spiritual retreats each year. These transformative Christian retreats are held at retreat locations in Colorado, Kentucky, and on the East Coast.
We invite you to register for one of the Women at the Cross retreats in the states listed above. We offer an Alumni Follow Up Program and online resources to help participants continue their Christian growth with others who have attended our retreats. Alumni also are invited to continue their growth by volunteering as staff members for Women at the Cross retreats.
The Schedule
Each retreat begins at 2:00 p.m. Friday and ends at 3 p.m. Sunday. The fee includes the cost of lodging and six meals – one meal on Friday evening, three meals on Saturday and two on Sunday.  Please plan to eat prior to your arrival on Friday and check the FAQs for out-of-town travel information to ensure your travel plans work with the timing of the weekend.  Late arrivals and early departures are not permitted.
Upcoming Dates
Women at the Cross- Franciscan Retreat Center, Colorado Springs, CO, September 24-26, 2021
Women at the Cross, The Pinelands at Mt.Misery, Browns Mills, NJ October 22-24, 2021
Women at the Cross – Crossings Camp, Bagdad, KY  November 5-7, 2021
NOTE on COVID-19: Our weekends do not allow for social distancing. You will be in small groups, eating together, and in shared sleeping quarters. You may wear a mask on the weekend, though masks are not required. We are committed to your safety and ask you to be particularly careful prior to joining us. Come healthy—leave healthy!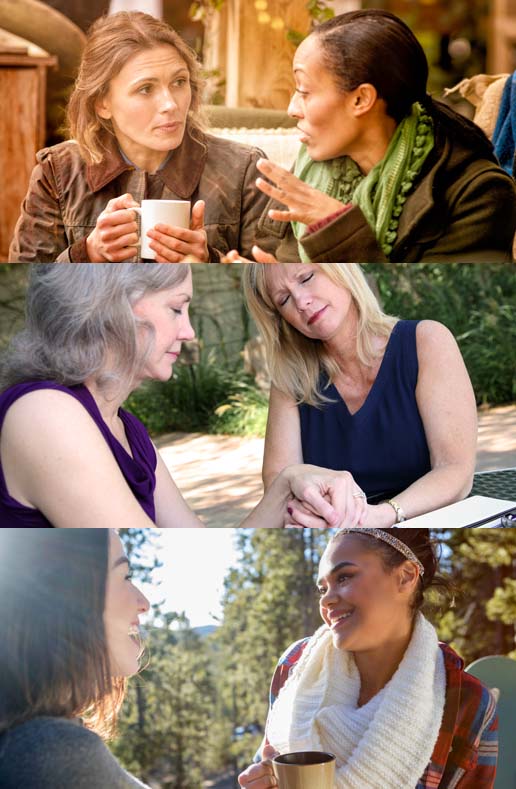 TESTIMONIALS
I am leaving Women at the Cross with a renewed mind and strength. My heart that was numb and going through the motions has been reminded of who I am in Christ.
— April, KY
READ MORE